Introduce
To do UBI car insurance, it is necessary to capture a large number of continuous and stable driving data information. At present, there are many ways for UBI to obtain vehicle data information, and the mainstream choice in the market is the OBD GPS Devices using the OBD interface. Through the GPS device of the OBD interface, the data information of many items including the driver's driving habits can be captured.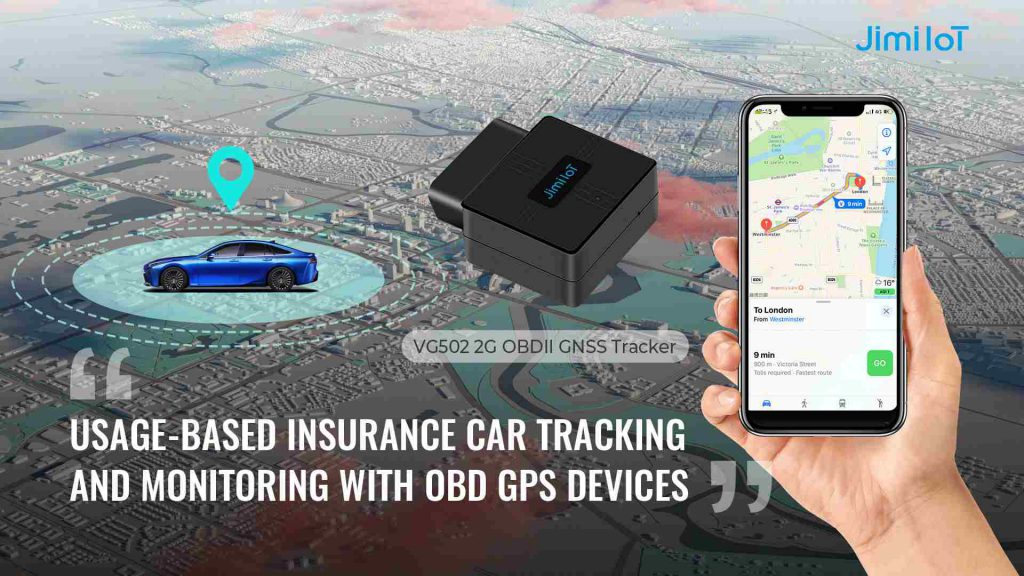 Challenge
According to the World Health Organization, approximately 1.3 million people are killed in road traffic accidents each year, and an additional 200,000 to 50 million people suffer non-fatal injuries, many of whom are disabled as a result of their injuries. Road accidents cost most countries 3% of their GDP.
Unwelcome driver behavior – rapid acceleration, speeding, sporty and/or aggressive driving, tailgating, sharp turns and hard stops – is all too familiar to many corporate fleet owners, insurance companies and traffic police.
On the other hand, the global auto insurance market is estimated at over USD 880 billion and is projected to grow at a compound annual growth rate (CAGR) of approximately 6.2% through 2025. Insurance loss reduction in this niche market is in high demand and will become greatly appreciated, creating an up-and-coming business opportunity.
So, the question is – can advancing IoT technology and Jimi as an industry leader assist insurance companies, fleet operators, car owners and help prevent injuries, deaths and financial loss on the road? Yes we can, here's how…
Solution
The most important usage-based insurance is to use the data information collected by the OBD GPS device. When a vehicle is equipped with a GPS tracker, it transmits the vehicle's geographic location, average driving speed, fuel consumption, driving style details (aggressive acceleration, braking, cornering) and patterns, traffic violations, road accident facts, etc. The core content of these data information is driving behavior information, which is used for the pricing of vehicle insurance.
The OBD GPS device links the driving data information of the car owner, identifies risks, integrates channels, products, and services, uses big data mining and analysis, and jointly establishes a customer risk model, and gives each customer a car insurance discount through risk differences, which can reduce the cost of acquiring customers for insurance companies and payout odds.
At Jimi, we develop and manufacture a sophisticated GPS tracker with a unique feature set and accurate data for use in insurance companies and corporate fleets.
VG502 OBD GPS Tracker is an ideal solution for insurance companies and fleet management. As an OBDII GPS tracker, VG502 is very easy to install and does not require professional personnel. This GPS tracker has driving behavior analysis (DBA) based on UBI algorithm, which can accurately analyze 4 kinds of dangerous driving behaviors, and supports all-round monitoring of the real-time status of the vehicle. With on-board diagnostics, multiple positioning systems, Bluetooth connectivity and event-triggered alarm suite.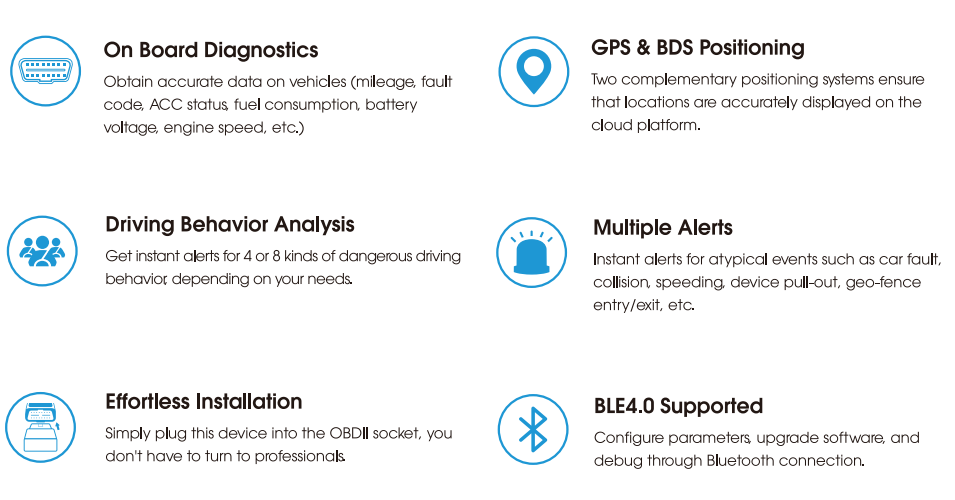 How OBD GPS Devices Work
DEVICE
The Jimi plug-in OBD or hard-wired trackers, dashcams, or other monitoring devices installed in vehicles collect telematics data, including collision events, driving hours, mileage, fuel consumption, driver attentiveness, and driving behavior, and upload the data to a cloud server over cellular networks. In the meantime, the device will give voice reminders if the policyholder shows signs of distraction or fatigue, or has been using the phone or driving recklessly. And if an emergency occurs, the panic button allows drivers to summon assistance in a single press.
CLOUD
The could server analyzes the uploaded data and visualize the data on Tracksolid Pro or your own platform in intuitive graphs and lists for easy reading. These critical data will be retained on the cloud server for 3 months at most.
PLATFORM
The platform presents the data in graphs, lists, and easy-to-read texts. The platform is easy to use and requires no special knowledge. The platform, working in conjunction with Jimi trackers, DVRs or peripherals, allows insurers to track the locations of policyholders' vehicles in real-time to send instant help if emergencies occur or recover stolen ones in the earliest time possible, live streaming the images from multiple cameras, and check the fuel and mileage data anytime, anywhere, on any device.
Benefits
01 Comprehensive and accurate data
Vehicle movement alarm, speeding alarm, electronic fence entry/exit, vehicle battery detection, power disconnection, and rapid acceleration, sudden braking, sharp turn, collision 4 driving behavior analysis, used to monitor, analyze and generate customer portfolio or company fleet Driver related reports.
02 Compact, robust and easy to install
Just plug this device into the OBDII socket, easy and quick installation, no training required, you don't need to resort to professionals.
03 Uninterrupted Tracking
In addition to position fix via GNSS, our house-developed inertial navigation module (INS)embedded in Jimi trackers enables the uninterrupted position fix in areas with poor or even no GPS signals. This functionality further increases the chances of recovering stolen vehic les for policyholders but It also helps reduce the cost of vehicle losses.
04 Individualized Pricing
Mileage data collected are critical if you charge the insured based on usage; while driving behavior analysis(DBA) is of paramount importance if policyholders are charged on how they drive. The platform allows you to leverage both types of data to craft the most suitable insurance strategy for each individual customer. With the platform, you can also create incentive programs rewarding policyholders with good driving behaviors.
Why Jimi?
Thanks to Jimi UBI car tracking and monitoring with VG502 OBD GPS tracker, insurance companies and customers are getting feedback on how consumers can improve their behavior and apply best driving practices. It benefits both parties and is a win-win situation for businesses, traffic participants, police and society.
For over 20 years, we have been developing an extensive assortment of top-quality certified GPS trackers, asset trackers, dash cameras, and any telematics solution you can imagine. Our aggressive growth and customer loyalty are a testament to the value of our approach.
In addition, we offer excellent customer support. We're always here to help you! Our world-class support is ready to answer any questions you may have. If necessary, don't hesitate to contact us: info@jimilab.com