Introduce
The global market for Motorcycles, Scooters and Mopeds estimated at 48.7 Million Units in the year 2022, is projected to reach a revised size of 61.6 Million Units by 2026.
Over the past decade or so there has been a general resurgence in popularity of Motorcycle Tracking Solution as a hobby or mode of transportation. They are increasingly used as low-cost means of transportation.
Challenge
However, industry insiders said: motorcycle theft is still on the rise. According to MCN, "Burglary cases increased by more than 36% in 2022 and are expected to grow by 11.1% in 2023.
Here are the annual figures for powered two-wheeled thefts, ranging from 2019-2022 (donated from the Police National Computer System):
2019: 24,353 motorcycles stolen
2020: 17,747 motorcycles stolen (-27.1%)
2021: 18,485 motorcycles stolen (+4.2%)
2022: 25,212 motorcycles stolen (+36.4%)
While the above positive percentages look a bit concerned, governing bodies are already predicting the motorcycle market will continue to suffer from continued petty filching with a projected rise of 11.1% to 28,000 thefts – and this is in the EU.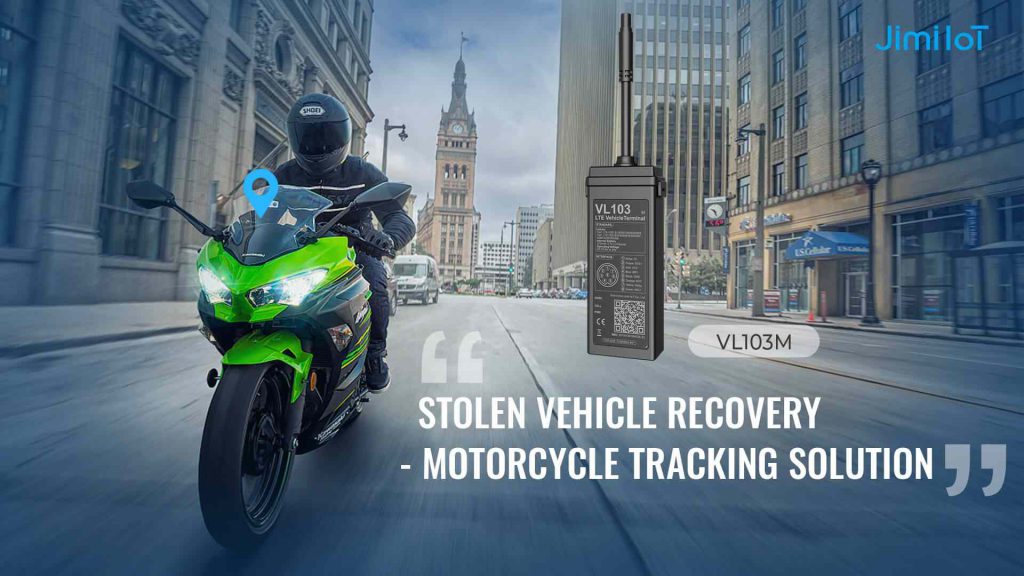 Solution
That said, most motorcycles are easy targets for thieves. In many cases, timely and correct data-driven action against a theft attempt can save valuable assets and prevent financial loss. If so, car owners and corporate fleet managers need to know where the vehicle is at a given moment, when it is being used or not, etc. Yes, GPS tracking devices can be very useful here, but there are a few things to consider.
We all know that on a passenger car or light commercial vehicle there are many places to mount a tracker, but on a motorcycle these places and spaces are very limited, so having a compact tracker is especially important.
Furthermore, motorcycles of all kinds are often affected by climatic factors and environmental conditions. Therefore, aspects such as rain, dew, moisture, dirt, clay, sand, dust, vibration, hot steam, etc. should also be taken into account.
That being said, these challenges need to be addressed, and Jimi is ready to offer practical solutions.
To showcase it, we've selected the brand new model Jimi VL103M Motorcycle GPS Tracker. It has some distinctive features. GPS & BDS & LBS positioning, multiple positioning systems cooperate to ensure that the position is accurately displayed on the cloud platform. Low voltage alarm, when the motorcycle battery voltage is lower than the threshold, you will be reminded by SMS. IP66 dust and water resistant, the rugged design ensures constant peak performance, even in the harshest conditions. 9-90V DC Input voltage, making it suitable for more motorcycle types.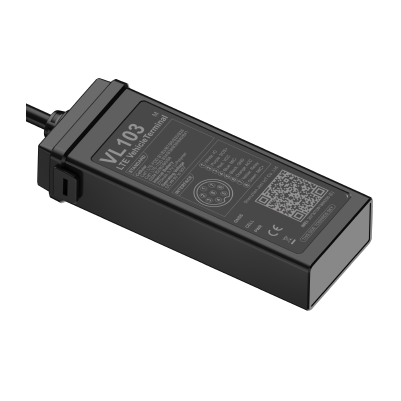 How it works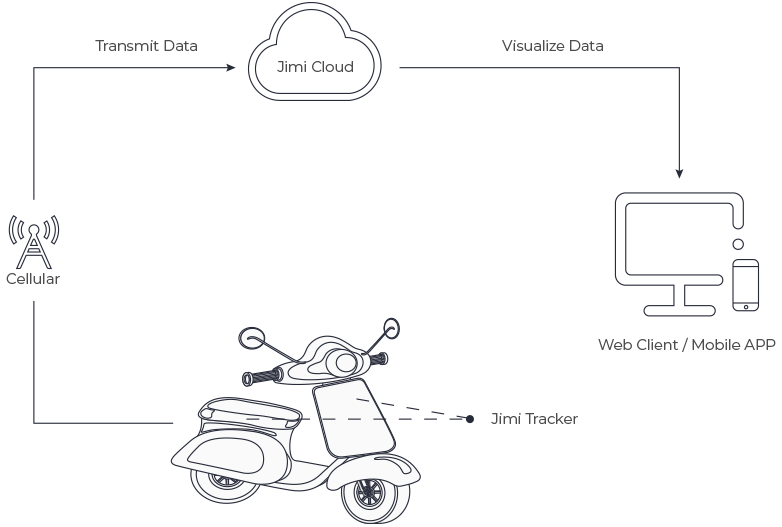 DEVICE
Jimi telematics devices installed on electric scooters, bikes, mopeds, and other two-wheelers interact with and collect data such as locations, battery status and faults and upload these data to a cloud-based platform.
CLOUD
The cloud server analyzes the uploaded data and visualizes them in more intuitive forms, such as graphs and lists on a designated web client or mobile app, so managers can have a clear understanding of the current statuses of their two-wheelers.
PLATFORM
The platform alerts fleet managers or operators in the back office if any exception occurs such as low battery, entering or leaving geographic zones, and tamper, so they can act accordingly. The platform also enables fleet managers or operators to schedule mainten ance to extend the service life of your fleet vehicles.
Benefits
Better for motorcycle tracking
VL103M is small in size, 9-90V DC Input voltage, suitable for many different types of motorcycles.
Easy positioning
GPS & BDS & LBS positioning, remote monitoring, buzzer alarm, sound and light car search and other functions allow you to easily locate your car when you can't find it, thus further improving the safety of the fleet.
IP66 waterproof
Rugged design ensures continued optimal performance, even in the toughest conditions.
Versatile
The VL103M is a powerful GPS tracker designed to handle industrial and commercial fleet applications in industries ranging from rental agencies and mass transit to trucking. The VL103M can become an important part of your fleet management strategy.
Why Jimi IoT
Remote monitoring, buzzer alarm, sound and light car search and other functions make motorcycle anti-theft more effective. What's more, thanks to the superior VL103M multifunctional GPS tracker, it can be used in wider markets and regions, bringing more projects, income sources and competitive advantages.
With 20+ years in the business, 40+ products and solutions, 300+ R&D professionals, 150+ countries and territories, 1,000+ partners and high-quality tracking hardware, and easy-to-use cloud platform, Jimi is trusted by businesses and consumers worldwide. With the help of Jimi &Concox hardware and software, our customers are able to achieve lower costs, higher productivity, and safer driving.