Introduce
In 2020, 3,142 people were killed in the United States due to distracted driving, an average of about 8 deaths per day. In 2021, that number has grown to 3,522. How deadly distracted driving is. Driving Solution The most cited distracted driving behavior was using a cell phone while driving. But eating in a moving car, as well as other types of distracting behavior such as noisy passengers, loud music, or even drowsy driving, are easily preventable.
To reduce the property damage caused by distracted driving, state and local governments have implemented a series of measures, such as prohibiting drivers from using mobile phones while driving, and conducting publicity campaigns to raise public awareness. In addition, automakers are also developing new technologies, such as driver assistance systems, to reduce the risk of accidents caused by distracted driving.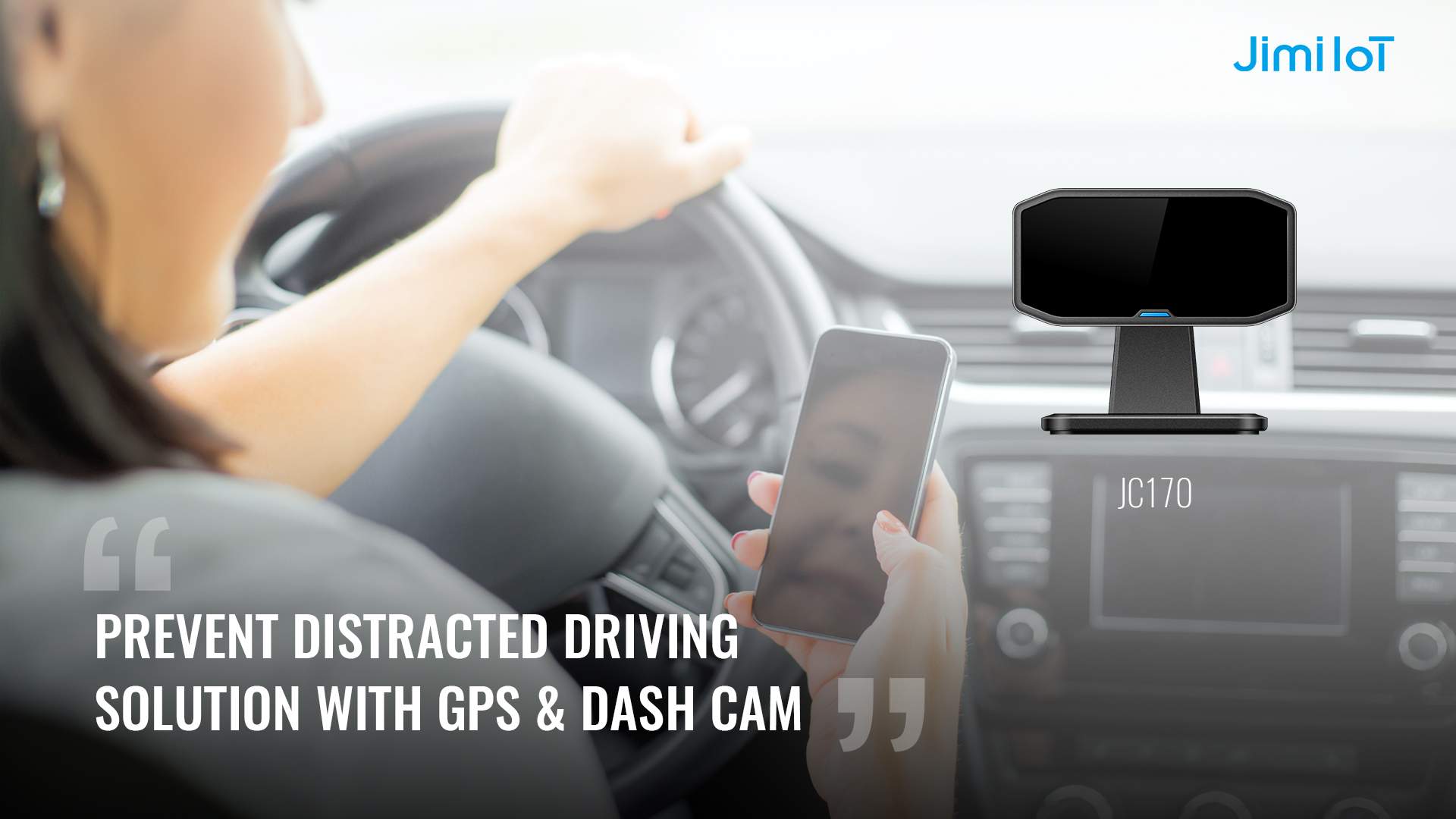 Challenge
Distracted driving accidents are estimated to cost the economy billions of dollars each year.
These losses include:
Repair or replacement costs for damaged vehicles
Maintenance costs of accident site infrastructure
Time and fuel wasted due to traffic jams
Accident handling and medical assistance expenses
Insurance claims and litigation costs
To reduce the number of accidents caused by driver-related factors, assist fleet managers and drivers to improve road safety and better protect drivers and cargo, reduce overall insurance premiums, improve efficiency, and ensure timely deliveries to improve your bottom line , Jimi's team developed a fleet management solution that combines driver status monitoring and vehicle tracking.
Driving Solution Solution
Currently, most fleet businesses (car rental services, ride-sharing companies, trucking services, hazmat services) have adopted fleet solutions that combine trackers and tracking platforms.
How it works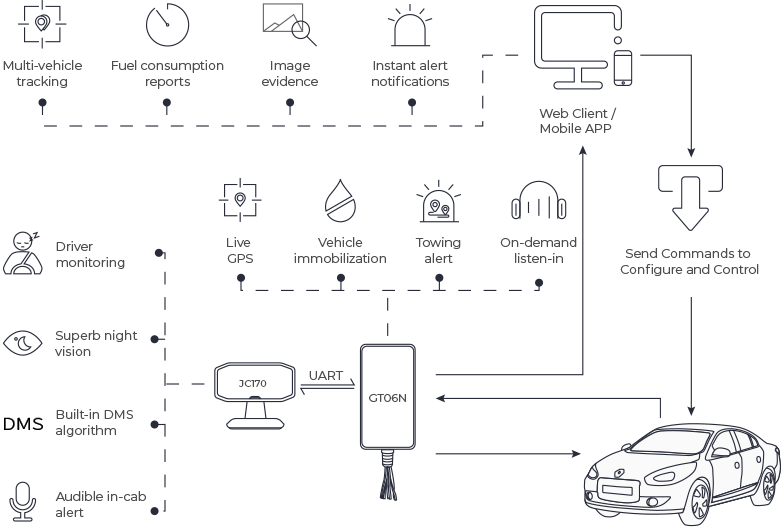 Jimi GT06N vehicle trackers and JC170 dash cam installed in fleet vehicles collect and report telematics data (location, speed, and time) as well as information about driver statuses to the cloud-based management platform. If the driver shows any signs of drowsiness, , or tiredness, the JC170 dash cam will instantly give out audible in-cab alerts to warn the driver to correct their actions before it's too late and send alert notifications to the platform, and then record and save relevant images in the device or to the cloud -based platform over cellular if required; while the trackers will help you pinpoint the precise locations of your en-route fleet vehicles and give live feeds on vehicle speed, battery, or more.
PLATFORM
Jimi Tracksolid Pro platform receives telematics data from trackers and images of driver attention and alertness from JC170 dash cam and analyzes these data to create detailed performance reports on vehicle fleets and drivers. It also allows fleet managers to create efficient driving routes, track vehicle inventory, and restrict operating areas as required; while end users can know their own performance via the Tracksolid Pro app and improve their behavior and safety awareness accordingly.
Benefits
1. In-Fleet Monitoring for Driver Improvement
The JC170 dash cam can detect and record unsafe driver behaviors. E.g. if your driver uses a cell phone smokes in the car, or dozes off while driving – your driver receives in-cab alerts and you get notified instantly. You can know what your drivers are doing and the level of their alertness behind the wheel and access even images on Tracksolid Pro. Such insights can prevent unfortunate accidents and help your coach drivers at the moment and in the future.
2. Image On-Demand for Evidentiary Support
The GMS connectivity of the GT06N GPS tracker enables the fast upload of images captured by the JC170 driver-facing camera when any of the unsafe driver behaviors are detected, which can be used as supporting evidence in the event of accidents or compliance.
3. Fewer Expenses
With images, you can get data regarding your drivers. This will help you identify driver-behavior-related issues such as drowsiness and distraction and enhance your driver's safety awareness through real-time and future coaching. A higher level of alertness means fewer accidents and Millions of dollars in accidental damage and insurance premiums saved, avoiding significant reputational damage, and ensuring timely delivery of cargoes.
4. Situational Awareness
Even if in a rare case, your driver is involved in a traffic accident, they can always use the panic button to notify you, so you can immediately send all necessary help to the site. And you can also activate the microphone remotely to listen and record the ambient sound to get a better idea of the whole situation.
Why Jimi IoT?
Jimi relies on Driving Solution for driver status monitoring and vehicle tracking for fleet management, more effective driver tracking, recording, notification, monitoring and efficient fleet management to prevent distracted driving to save lives and reduce asset losses.
Jimi has more than 20+ years of experience in the loT/loV industry and a team of experts to assist you in the adoption. We offer ready-todeploy solutions (with IoT SIM cards for worldwide connectivity) as well as OEM, ODM.and OBM services to suit your industry-specific needs.