Increasing consumption and credit acceptance, as well as relaxed policies, are contributing to a brighter future for the auto finance risk control industry. Despite this, the industry is still plagued with many problems due to insufficient management and monitoring. Using precise positioning technology and sensitive sensors, Jimi IoT tracking terminals can help you easily track on-road vehicles. With our cloud platform, we can also assist fleet managers and corporate executives in monitoring their fleets and predicting abnormal events in advance, thereby enhancing auto finance's risk control capability.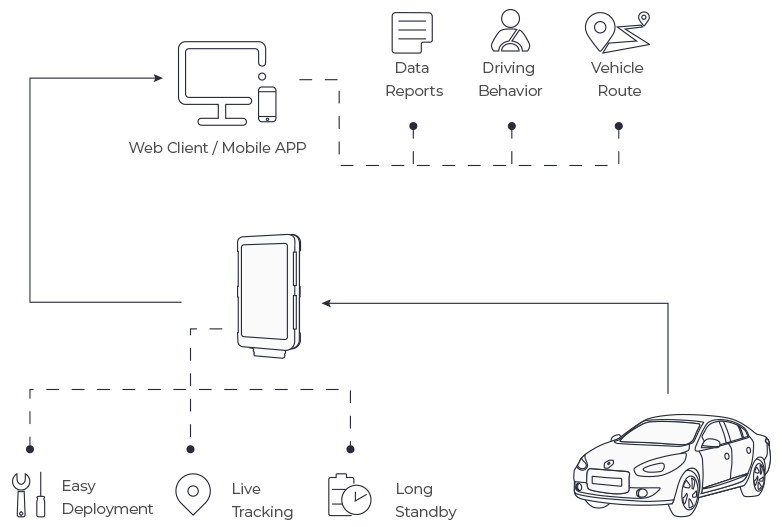 DEVICE  Featuring advanced GPS antenna and sensitive sensors, Jimi intelligent trackers can monitor the status of on-road vehicles in real-time. Along with the help of multiple positioning systems, solid communication networks and K-Line & Can Bus data reading ability, the collected telematics data (location, mileage, alarm information, etc.) are all transmitted to the cloud server for analysis and calculation, and the visual data reports are fed back to the risk control platform, helping managers in charge to feel totally assured that their leased vehicles are under constant protection.
PLATFORM  The Tracksolid Pro platform provides real-time location tracking, daily route maps, geo-fences setting, event-triggered alerts, driving behavior analysis, and reports & analytics, helping leasing companies get to know what's going on of their leased vehicles at all times. Among these features, the data dashboard is the most powerful tool to assist managers in identifying risk events promptly, and even predicting them in advance, thereby enabling a higher level of risk control in the auto finance industry.
Featuring a plug-and-play design and powerful magnetic base, Jimi wireless tracking terminals provide hassle-free installation, saving you a lot of time. Rather than changing their vehicles from their factory stock to new ones, car rental companies are able to keep the integrity of their vehicles without wiring, which in turn helps with secondhand sales at the end of their lifecycles.
Using real-time location tracking, geo-fences setting and instant alerts system, leased vehicles' security can be greatly improved, ensuring a lower ratio of auto thefts. Even if theft or any other emergencies happen, leasing companies can leverage the tracker to confirm the location, and the vehicle will likely be retrieved in a couple of hours, saving a lot of time and money.
Near real-time wireless OBDII data transfer from on-road vehicles to the cloud platform, regular and preventative maintenance can be more precisely arranged with visual reports from the platform, making it easier to avoid breakdowns for on-road vehicle fleets, thereby maximizing your vehicles' uptime.
With predictive strategies, fleet managers and corporate leaders can easily lengthen the lifespan of their leased vehicles. Along with hard-wired trackers, we also offer various battery-powered asset trackers leveraging different battery capacities to allow leasing companies to choose an ideal tracking solution based on the contract period, ranging from several days to a few months or even longer.
By using the all-in-one data dashboard, fleet managers can monitor the driving conditions and locate overdue vehicles at a glance, helping leasing companies find potential problems such as improper driving habits. The data insight can also help fleet managers improve their business operations and stand out from their competitors by minimizing risks or compensation claims in the future.