Introduce
According to a market research report released by Custom Market Insights, the global luxury car leasing market size and share revenue demand analysis is approximately US$52.5 billion in 2021 and is expected to reach approximately US$84.3 billion by 2030. This opens up better opportunities for businesses to expand and provide customers with faster and easier luxury car rental services.
The digitization of rental services is also affecting the luxury car segment. It plays an important role in the growth of this market. Businesses must optimize their fleets and make luxury car rentals easier and more convenient for customers. Fortunately, the Jimi Vehicle GPS Tracker can be successfully used for this purpose.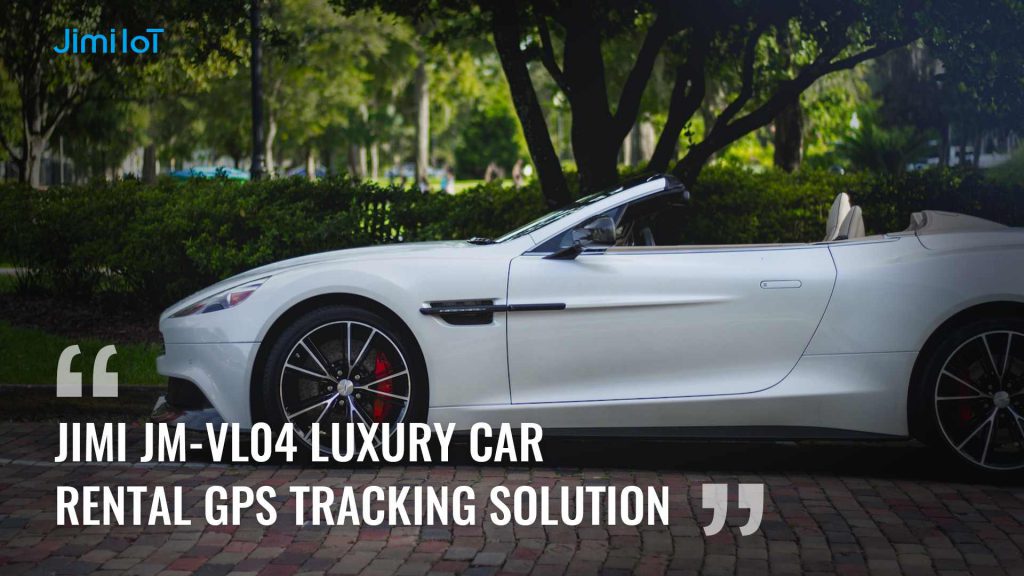 Challenge
According to the Business Market Insights report, the key market players are optimizing their fleets by integrating software applications for the post-accident process, providing a solution for payment flexibility, introducing attractive schemes with reasonable prices and the most popular routes, and increasing their customer base. Thus, the challenge appears for some luxury car service providers. The majority of them are leased, which means that no modifications are allowed, otherwise, the maker's warranty will be lost. It includes cutting the vehicle wires, which is a regular practice for installing the most GPS tracking device.
Obviously, luxury cars are more expensive and require high maintenance costs, which is why car warranties are very important. According to the Auto Detailing Services provider, it is calculated that the average ten-year maintenance expenses for luxury cars are twice higher than standard ones. An example could be the oil change: an owner of the Audi might pay around USD 150 for such a service, while the cost for the Bugatti can reach up to USD 25,000.
Solution
To meet this challenge, Jimi offers a solution that is easy to use and quick to install. JM-VL04 LTE OBDII GNSS tracker can be installed in minutes without cord cutting to maintain the car manufacturer's warranty. JM-VL04 is an OBD-II plug-and-play vehicle tracker that can be directly connected to the vehicle. Due to its compact size, this tracker is perfect for any OBD port anywhere. No tools, skilled engineers, or special knowledge are required to get started.
The tracker's collision detection scene monitors the acceleration of each vehicle axis (i.e. X, Y, and Z). If collision detection is enabled, it monitors the acceleration of each axis, which helps to detect such events. When a failure is detected, the JM-VL04 tracker immediately saves the crash tracking data according to the configured tracking ODR, acceleration duration, and GNSS duration parameters and sends it to the server for further analysis. In this way, the real culprit can be seen at a glance in related reports.
Plus, quick installation and ease of use aren't the only benefits the JM-VL04 can bring to businesses. Use the "trip detection" function to calculate the cost of car rental based on speed, mileage, area traveled, and duration. JM-VL04 is based on a unique algorithm for accurate mileage calculation, and the mileage accuracy is ≥98%. If any of these exceed the predefined parameters, an additional fee may be calculated and charged.
The "driver behavior tracking" function can detect 8 dangerous driving behaviors: sudden acceleration, sudden braking, sharp turn, sudden lane change, collision, sideslip, rollover, roll, and pitch. Receive alerts when any of the 8 dangerous driving behaviors are detected.
INS-aided GPS tracking ensures constant tracking in areas with poor GPS signals or even without it. An unobtrusive microphone enables remote audio monitoring of the device's surroundings.
For a more enjoyable driving experience, drivers are more likely to speed in luxury vehicles such as Porsches than in Volkswagens, which can lead to unforeseen situations that can cause damage to the car. Equipped with a built-in accelerometer, the JM-VL04 can provide accurate crash-tracking data to help reconstruct the scene of an accident.
In conclusion, like any other Jimi GPS device, the JM-VL04 can bring more value to your business. They also have a Bluetooth connection function, support BLE4.0, and can configure parameters, upgrade software, and debug through Bluetooth connection.
Benefits
Easy device installation – The OBD-II port connector not only saves company resources but also preserves the automaker's warranty. Optimize fleet monitoring and tracking even when vehicles are leased.
Improve safety and resource management – Built-in accelerometers provide detailed incident tracking data for timely and accurate assessments, and also help with fleet fuel efficiency, driver behavior monitoring, maintenance management, and more.
Extended usage scenarios: 9-36V working voltage, compatible with a wide range of input voltages, applicable to a variety of vehicles. And it covers almost all LTE frequency bands in the world.
Why Jimi IoT?
The JM-VL04 serves as a portable plug-and-play GPS tracking device for basic fleet monitoring requirements. What's more, it's well-suited for the higher-maintenance luxury car rental market. This may help in gaining higher competitiveness and status in the luxury car rental market.