On May 30th, IoT Evolution World and IoT Evolution Magazine announced the winners of the 2023 IoT Evolution Asset Tracking Awards, honoring outstanding innovations in utilizing IoT technology to automate asset tracking for improved efficiency, theft reduction, and optimized asset utilization. In this prestigious competition, Jimi IoT's star product, the LL303 4G Solar Powered GNSS Tracker, stood out and successfully made the cut.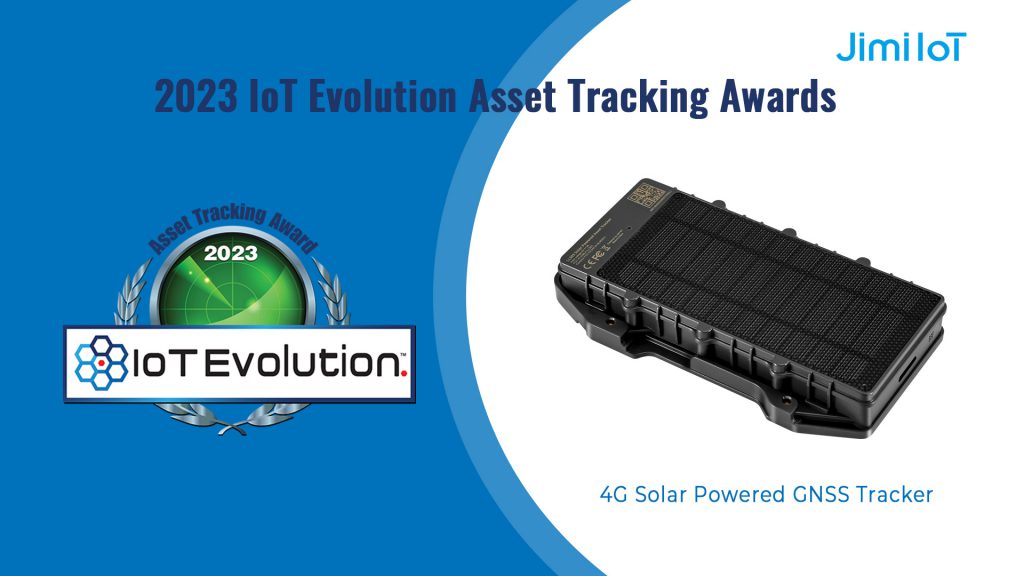 Rich Tehrani, CEO of TMC, stated, "The IoT Evolution Asset Tracking Awards highlight innovation in the field of asset management. We are impressed by the uniqueness and practical application of the winning products. The winners of the 2023 Asset Tracking Awards represent leaders in the rapidly growing IoT asset management industry. IoT Evolution World looks forward to its future success."
LL303 4G Solar Powered GNSS Tracker
As one of Jimi IoT's star products in recent years, the LL303 is truly a "multifunctional king" in the field of real-time tracking. The device is compatible with 4G LTE and 2G GSM networks, supporting GPS + BDS/LBS/WIFI intelligent positioning, tamper alerts, sound and light alarms, RFID identification, Bluetooth expansion, and more. With an IP67 dustproof and waterproof rating, it can operate steadily in complex environments. The LL303 is equipped with a large solar panel that covers 5/6 of its surface area, providing a stable power supply to the tracking device on sunny days. The magnetic charging interface design allows for fast charging while minimizing interface damage, making it resilient in outdoor harsh weather conditions.
Currently, the LL303 supports the simultaneous expansion of over ten types of Bluetooth sensors, offering functions such as light detection, door and switch status detection, temperature, and humidity detection, rotation counts detection, Bluetooth geofencing, Bluetooth wireless buttons, infrared sensing, and more, catering to various scenario requirements.
The LL303 4G Solar Powered GNSS Tracker is suitable for outdoor assets such as trailers, excavators, mixers, dump trucks, boats, and containers, providing remote positioning and management services for administrators. The device has obtained multiple certifications including FCC, CE, PTCRD, and CCC, and has gained popularity globally.
About Jimi IoT
JimiIoT is a leading provider of innovative IoT solutions, Driving innovation, efficiency, and safety worldwide. We offer cutting-edge IoT solutions for GPS tracking, asset management, and more. With advanced technology and tailored solutions, we empower businesses across industries. Trust us as your reliable partner for smart, connected solutions that optimize operations and deliver peace of mind. Experience the power of IoT with JimiIoT.