How can you keep track of your fleet drivers' details at all times while they are on the job? The answer is to use GPS. GPS tracking fleet management allows fleet managers to keep track of fleet drivers' routes and other information, which will help you make the right decisions and make you an efficient fleet manager.
GPS positioning technology can accurately locate your fleet in real time with high accuracy, efficiency, versatility, sustainability and ease of operation. With the help of satellites, electronic geo-information technology, digital cellular mobile communication and other technologies, real-time positioning and dynamic tracking can be carried out.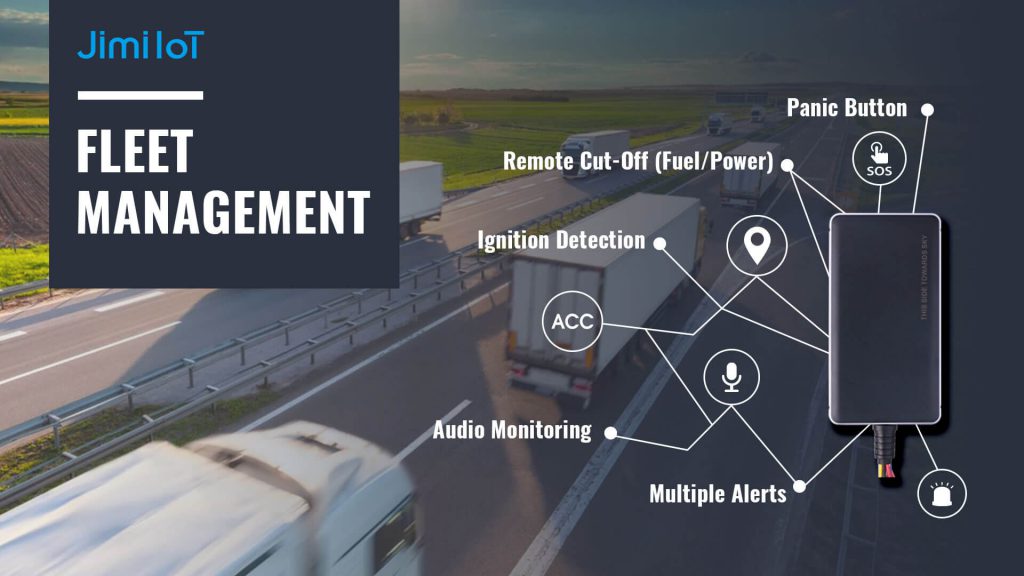 Using gps tracking fleet management is extremely beneficial.
1. Real-time dynamic tracking of vehicles
Using GPS, electronic maps, you can accurately reflect the location of the vehicle and zoom in and out, you can ensure that the vehicle always appears on the control system screen tomb. It is also able to achieve real-time tracking through multiple windows, vehicles, and screens, thus making the vehicle operation be in the hands of fleet managers at all times.
With GPS for fleet location, you no longer need to manually locate and maintain your vehicles. You can use GPS tracking devices to automate the process. You simply enter a maintenance schedule and the location device will notify you via text message or email when your vehicles are due for maintenance.
2. Improve the efficiency of dispatching and management
Usually, to improve the efficiency of the fleet, fleet managers divide the work equally among fleet drivers. If one driver's workload exceeds the workload of other drivers, it will lead to a decrease in efficiency.
With gps tracking fleet management, you can locate the driver's work schedule at any time, ensuring that you can distribute work evenly to the fleet drivers and avoid overworking them.
In addition, when fleet scheduling is optimized, you can provide customer service to more customers. Efficient scheduling allows you to do more business, provide more available time slots for your customers, and give them more options
3. Efficient route planning and navigation
By simply entering the origin and destination into the GPS system, the driver is able to scientifically plan the vehicle's travel route, automatically design the best route, and navigate according to that route.
Route planning can also be done with the help of the GPS system. After the planning is completed, the display will show the vehicle's operating route, providing an accurate basis for effective vehicle control.
The monitoring center is able to query any target with the help of the monitoring console, displaying the vehicle information on an electronic map. Users are also able to query the relevant text and picture information on the electronic map through the information query function.
The GPS fleet tracking device will help you choose the most efficient route, saving you time and money. When you can plan your routes efficiently, you can eliminate unnecessary fuel costs and reduce unproductive work.
4. Reduce Maintenance Costs
Today, GPS technology has more and more telematics capabilities, such as engine temperature indicators, fuel level indicators and vehicle diagnostics. With gps tracking fleet management, you can closely monitor important matters such as engine oil and vehicle health, and automatically alert you when they are due, saving you money by not having to transport your vehicle to a mechanic for regular inspections.
For example, Jimi IoT cold chain management solution.
Using Jimi dash cam, GPS tracker, door sensors and fuel level sensors installed in the compartments and cold rooms of refrigerated trucks and trailers. Real-time collection of critical data about location, door status, temperature and humidity, drivers and their driving behavior, etc. The data is then uploaded to a cloud server using a cellular network.
The cloud server analyzes the data and visualizes it in intuitive charts and lists on a designated web client or mobile app. Giving managers a clear picture of the current status of the fleet, cargo and drivers.
The platform alerts managers or drivers to any abnormalities, such as temperature or humidity fluctuations, fatigued or distracted driving, sharp acceleration, hard braking, sharp turns, low fuel levels and doors that take too long to open, so they can take appropriate action.
5. Reduce insurance costs
If your fleet vehicles are equipped with GPS trackers, your insurance company will most likely offer you a discount. There are several ways that GPS fleet locators can help you reduce your insurance costs. These include the following.
With GPS tracking, the likelihood of recovering stolen items is increased. In addition, safer drivers mean fewer accidents and fewer insurance claims. Some insurance companies will even look at your satellite driving history in order to offer you better insurance rates. Finally, GPS fleet location will help you save money, increase productivity and improve the safety of your drivers on the job.
In Summary
With the powerful features of gps tracking fleet management, you can provide accurate information on location, time and other aspects. Through satellite positioning, vehicle inquiry and dispatch, alarm and other functions, to improve strong technical support for vehicle management. What's more, gps tracking fleet management can improve the efficiency of vehicle management, so that the cost of transport vehicle safety management is greatly reduced, the work efficiency is greatly improved, and the quality of work is effectively guaranteed.