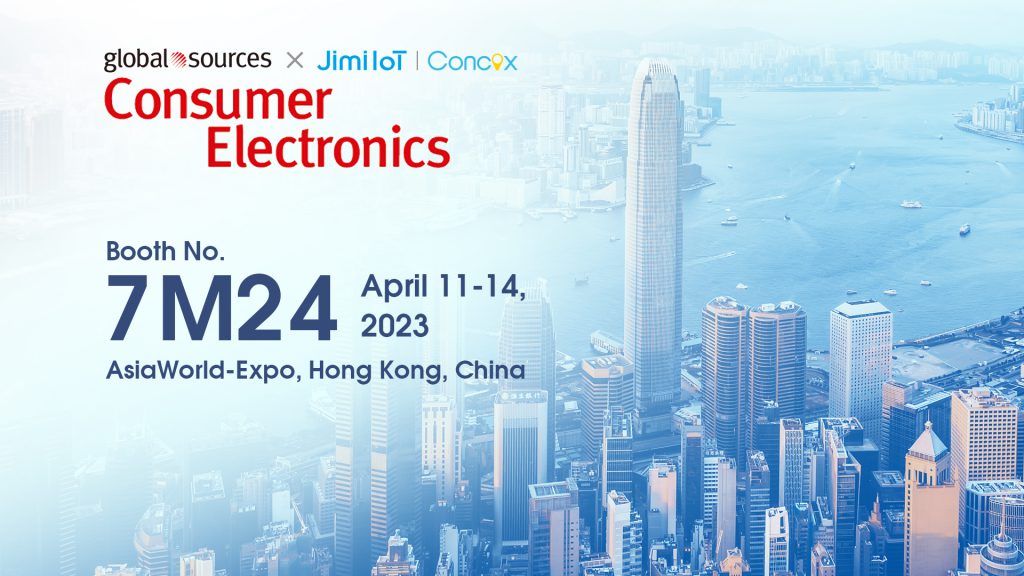 Global Sources Consumer Electronics
Global Sources Consumer Electronics HONG KONG 2023 is here! In this exhibition, JimiIoT will showcase its latest products, technologies, and innovations in the IoT field. Our team looks forward to exchanging ideas, sharing insights, and exploring collaboration opportunities with you. Don't forget to visit our booth No. 7M24!
LL303 – Our first-ever equipment tracker that utilizes solar energy as a power source and records engine idling time to help you save costs and reduce your carbon emissions.
VL502 – A plug-and-track OBDII vehicle terminal that can be easily installed in virtually any vehicle and is ideal if your business is looking for convenience and ease of use.
VL802 – A vehicle tracker that uses the Cat-M1/NB-IoT networks for fast data transmission and features multiple I/Os for function expansion.
Video Telematics Solution – The JC450 series is suitable for vans and trucks, capable of recording 4/5 separate channels simultaneously, and provides valuable ADAS and DMS algorithms that actively assist drivers to increase awareness and safety on the road by providing real-time, actionable alerts. Video clips triggered by key events or the in-cab SOS button are saved to the cloud for later review or evidentiary support.
GPS Asset Tracking Solution – Featuring our IP65/IP67 rated LL01, LL701, and LL302 asset trackers that can collect all types of data, including CAN data, from trucks, e-scooters, buses, and motorcycles, providing comprehensive reports to help your company improve efficiency, optimize routes, and reduce carbon footprint.
Where high-quality OEMs/ODMs in mainland China and the rest of Asia converge to display their in-demand electronics with unique designs. Global Sources Consumer Electronics HONG KONG brings the digital ecosystem together, it will be held at AsiaWorld-Expo, Hong Kong, China during April 11-14, 2023. JimiIoT can be found at Booth [7M24].
About JimiIoT
JimiIoT (Concox) is recognized as a major player in the IoT industry focused on IoT telematics and cloud services. The company's business covers fleet management, asset tracking, personal care, device management, and shared mobility. Through partnerships with many well-known companies and organizations from over 150 countries and regions, including China Mobile, China Telecom, Deutsche Bahn, HERE Technologies, Orange, Cal/amp, and Telcel,
If you would like more details, please visit  Facebook, LinkedIn, INS, and Twitter pages to learn more.