Introduce
ORLANDO, Fla. – Parts and labor cost data suggest that significant cost challenges will continue to impact fleets through 2023. Compared with the fourth quarter of 2022 and the fourth quarter of 2021, parts and labor costs increased by 14.4% and 10.8%, respectively, and comprehensive expenses increased by 13%. GPS Vehicle Tracker
Whether it is a fleet rental company or a managed care dealership, it is increasingly desirable to receive vehicle alerts and status diagnostics in advance, providing vehicle managers with sufficient information to take action in advance to reduce the continuously rising vehicle maintenance and repair costs.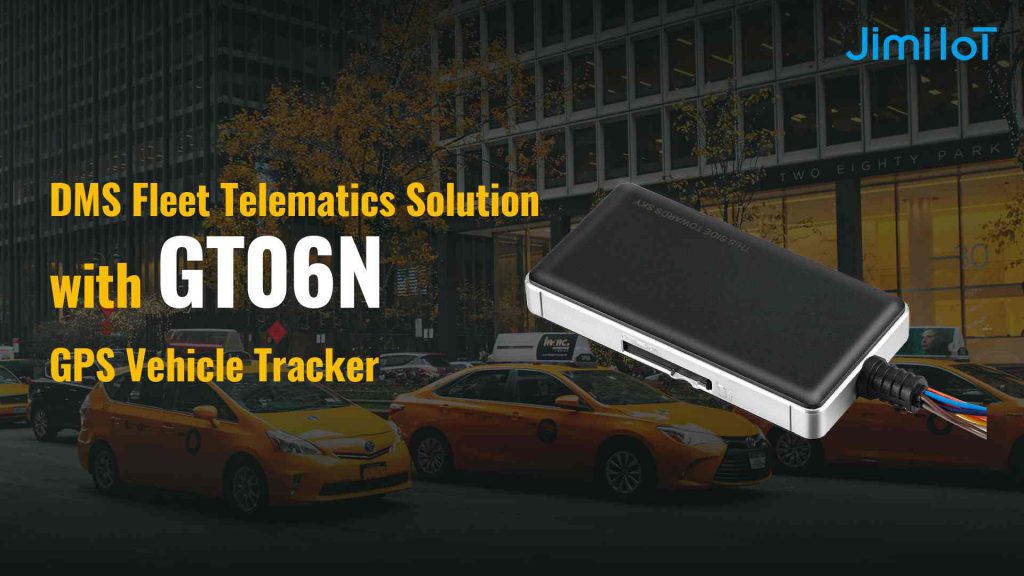 Challenge
According to the survey, 65% of owner-operators are spending more time and money maintaining their trucks to prevent costly repairs.
High diesel costs are another pressure. According to Truckstop, 77% of owner-operators are booking shorter routes due to rising costs such as diesel. 72% have already started looking for lighter loads, and 66% are spending more time rerouting to find more fuel-efficient lanes.
High maintenance costs for diesel vehicles have become a thorn in the side of fleet managers. Coupled with economic pressures such as record inflation, high diesel prices and volatile freight markets, it is urgent to reduce fleet management costs.
Fleet tracking and monitoring is undoubtedly the best medicine for fleets to reduce costs and increase efficiency, and provide corporate profits.
Solution
Currently, most fleet businesses (car rental services, ridesharing companies, trucking services, hazmat transportation services) have already adopted fleet solutions combining trackers and a tracking platform. So how to quickly upgrade the existing system to comply with the emerging take regulations and leads In the business at the lowest cost is a pressing issue.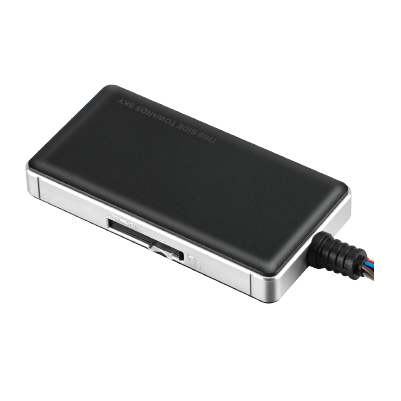 The combination of Jimi GT06N GPS Vehicle Tracker and JC170 DMS camera can solve this challenge well.
GT06N GPS vehicle tracker cuts off the power/fuel supply by the installed relay to immobilize the vehicle. It can also contact dispatch or emergency support using the concealed in-cabin SOS button. The GT06N constantly detects the ACC/ignition status of the vehicle. It has an instant alarm function for atypical events such as abnormal vibration, low battery, power failure, and overspeed. Its extended mic cable makes it easier to get the mic into the cab.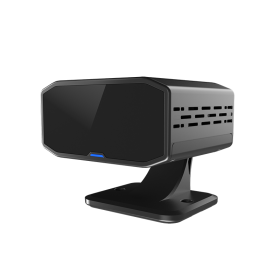 The JC170 DMS camera, with up to 7 algorithms embedded, is capable of detecting fatigue and distracted driving practices, such as phone use, yawning, smoking, and droopy eyes, as well as the exception of the driver not in position and emits an audible warning to remind the driver to stay vigorous in real-time. This is especially important when your fleet is responsible for transporting hazardous chemicals or passengers where any incident may lead to tragedy or money loss and helpful in improving compliance if your local government has and rules regulations on driver fatigue.
How GT06N GPS Vehicle Tracker works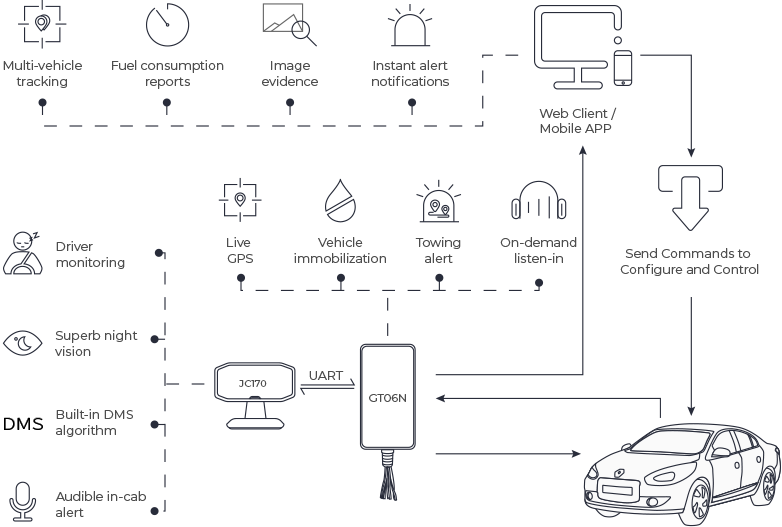 DEVICE
Jimi vehicle trackers and DMS cameras installed in fleet vehicles collect and report telematics data (location, speed, and time) as well as information about driver statuses to the cloud-based management platform. If the driver shows any signs of drowsiness, distraction, or tiredness, the DMS camera will instantly give out audible in-cab alerts to warn the driver to correct their actions before it's too late and send alert notifications to the platform, and then record and save relevant images in the device or to the cloud-based platform over cellular if required; while the trackers will help you pinpoint the precise locations of your en-route fleet vehicles and give live feeds on vehicle speed, battery, or more.
PLATFORM
Jimi Tracksolid Pro platform receives telematics data from trackers and images of driver attention and alertness from DMS cameras and analyzes these data to create detailed performance reports on vehicle fleets and drivers. It can even score drivers and facilitate I coaching ont the session planning data based. It also allows fleet managers to create efficient driving routes, track vehicle inventory, and restrict operating areas as required; while end users can know their own performance via the Tracksolid Pro app and improve their behavior and safety awareness accordingly.
Benefits
01 In-Fleet Monitoring for Driver improvement
The JC170 DMS camera can detect and record unsafe driver behaviors. E.g. if your driver uses a cellphone, smokes in the car, or dozes off while driving – your driver receives in-cab alerts and you get notified instantly. You can know what your drivers are doing and the level of their alertness behind the wheel and access event images on Tracksolid Pro. Such insights can prevent unfortunate accidents and help your coach drivers at the moment and in the future.
02 Image On-Demand for Evidentiary Support
The GMS connectivity of the GTO6N GPS tracker enables the fast upload of images captured by the JC170 driver-facing camera when any of the unsafe driver behaviors are detected, which can be used as supporting evidence in the event of accidents or compliance.
03 Fewer Expenses
With images, you can get data regarding your drivers. This will help you identify driver-behavior-related issues such as drowsiness and distraction and enhance your driver's safety awareness through real-time and future coaching. A higher level of alertness means fewer accidents and Millions of dollars in accidental damage and insurance premiums saved, avoiding significant reputational damage and ensuring timely delivery of cargo.
04 Situational Awareness
Even if in a rare case, your driver is involved in a traffic accident, they can always use the panic button to notify you, so you can immediately send all necessary help to the site. And you can also activate the microphone remotely to listen and record the ambient sound to get a better idea of the whole situation.
05 Seamless Integration
Jimi offers an API protocol to integrate our devices with your existing system and enable you to access all the data collected by TracksolidPro.
06 Customization Services
Jimi has more than 20+ years of experience in the loT/loV industry and a team of experts to assist you in the adoption. We offer ready-to-deploy solutions (with IoT SIM cards for worldwide connectivity) as well as OEM, ODM, and OBM services to suit your industry-specific needs.
Why Jimi IoT?
Jimi fleet telematics solution helps companies reduce fuel consumption, reduce vehicle maintenance costs, and monitor drivers for dangerous driving behaviors. Fleet managers can avoid unnecessary costs, manage budgets more efficiently, and improve driving safety.
With 20+ years in the business, 40+ products and solutions, 300+ R&D professionals, 150+ countries and territories, 1,000+ partners and high-quality tracking hardware, and easy-to-use cloud platform, Jimi is trusted by businesses and consumers worldwide. With the help of Jimi hardware and software, our customers are able to achieve lower costs, higher productivity, and safer driving.
In addition, we offer excellent customer support. We're always here to help you! Our world-class support is ready to answer any questions you may have. If necessary, don't hesitate to contact us: info@jimilab.com